Le Canot Imperiale Ship Model (1810 France)
ADMIRALTY SHIP MODELS
Le Canot Imperiale Ship Model (1810 France)
Overall size: 75 cm (L) x 29 cm (H)
ONLY ONE IN STOCK!
SKU: 92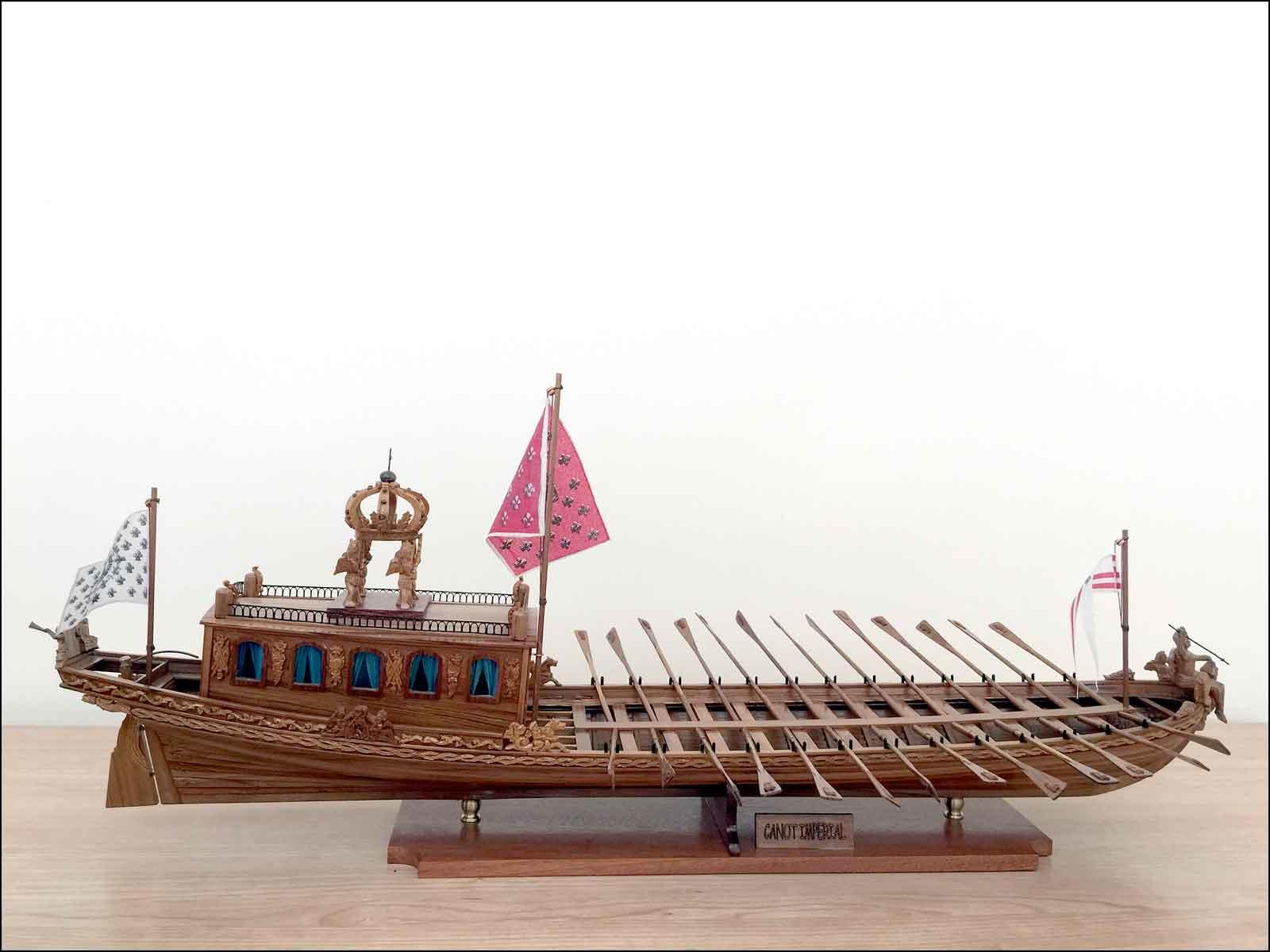 Share the love with your friend
Complete the form below and we'll email your friend about this product
You'll earn 0 reward points with this purchase.
Be one of the first to know!
We're sorry we're out of stock but we can let you know as soon as it's available if you enter your email address below.
Overall dimensions:
Length: 29.52" (75 cm)
Width: 5.51" (14 cm)
Height: 11.41" (29 cm)
Le Canot Imperiale is a handmade wooden ship model that displays our high degree of craftsmanship. This handmade ship is a true masterpiece.
Le Canot Imperiale is a French ship of the Napoleonic era.

A wooden ship model handmade from scratch.

The ship model is fully built except for the oars.

Supported by a solid wooden stand.

Not a kit.

Dispatched from Bristol or free Click & Collect.
Models are shipped via DHL and shipping costs are as follows:

UK mainland and Northern Ireland @ £10.50
The Scottish Highlands & Channel Islands @ £35.10
The USA @ £104.00

Please email us to request a delivery charge to your country.
INTERNATIONAL DELIVERY INCLUDING EUROPE:
Shipping cost doesn't include customs clearance, import taxes, duty or VAT. The buyer will be liable for payment of all import charges applicable in their respective country. Each country has a different tax rate. We advise buyers to check their government website for further information.

DELIVERY TO NORTHERN IRELAND:
There are no extra charges to be paid for deliveries to Northern Ireland.
"Le Canot Impérial" was not a warship or commercial vessel like many other famous ships of its era, but it holds its own unique place in history. Here's a brief overview of its significance:
Commission: The "Le Canot Impérial" (often translated as "The Imperial Barge") was commissioned in 1810 by Napoleon Bonaparte. It was designed and built to be used during ceremonies and for personal transport during Napoleon's journeys.
Design and Craftsmanship: The barge was a masterpiece of naval craftsmanship, a symbol of Napoleon's empire at its height. It combined both functionality and splendor. Designed with a mix of classical and Empire styles, it bore detailed carvings, including the imperial insignia, figurehead, and other emblematic designs that highlighted Napoleon's grandeur.
Usage: Napoleon used the barge during several significant events, one of the most notable being his return from Elba in 1815. It was also used for his visits to Antwerp and for trips along the Seine river in Paris.
Post-Napoleonic Era: After Napoleon's fall, the barge remained a prestigious artifact. It was used by successive French monarchs and leaders. For instance, King Louis XVIII and Charles X utilized it for various ceremonies.
Preservation: The significance of "Le Canot Impérial" as a piece of French history led to its preservation. As of my last training data in September 2021, the barge is housed at the Musée de la Marine in Paris. It stands as a testament to the opulence and grandeur of the Napoleonic era.
The "Le Canot Impérial" is an iconic piece of maritime history, representing not just naval craftsmanship but also the pomp and circumstance of an era where presentation and symbolism played a significant role in the projection of power and authority.
---