Santa Maria Model Galleon (1480 Spain) | Medium Scale
ADMIRALTY SHIP MODELS
Santa Maria Model Galleon (1480 Spain) | Medium Scale
Overall size: 79 cm (L) x 59 cm (H)
SKU: 9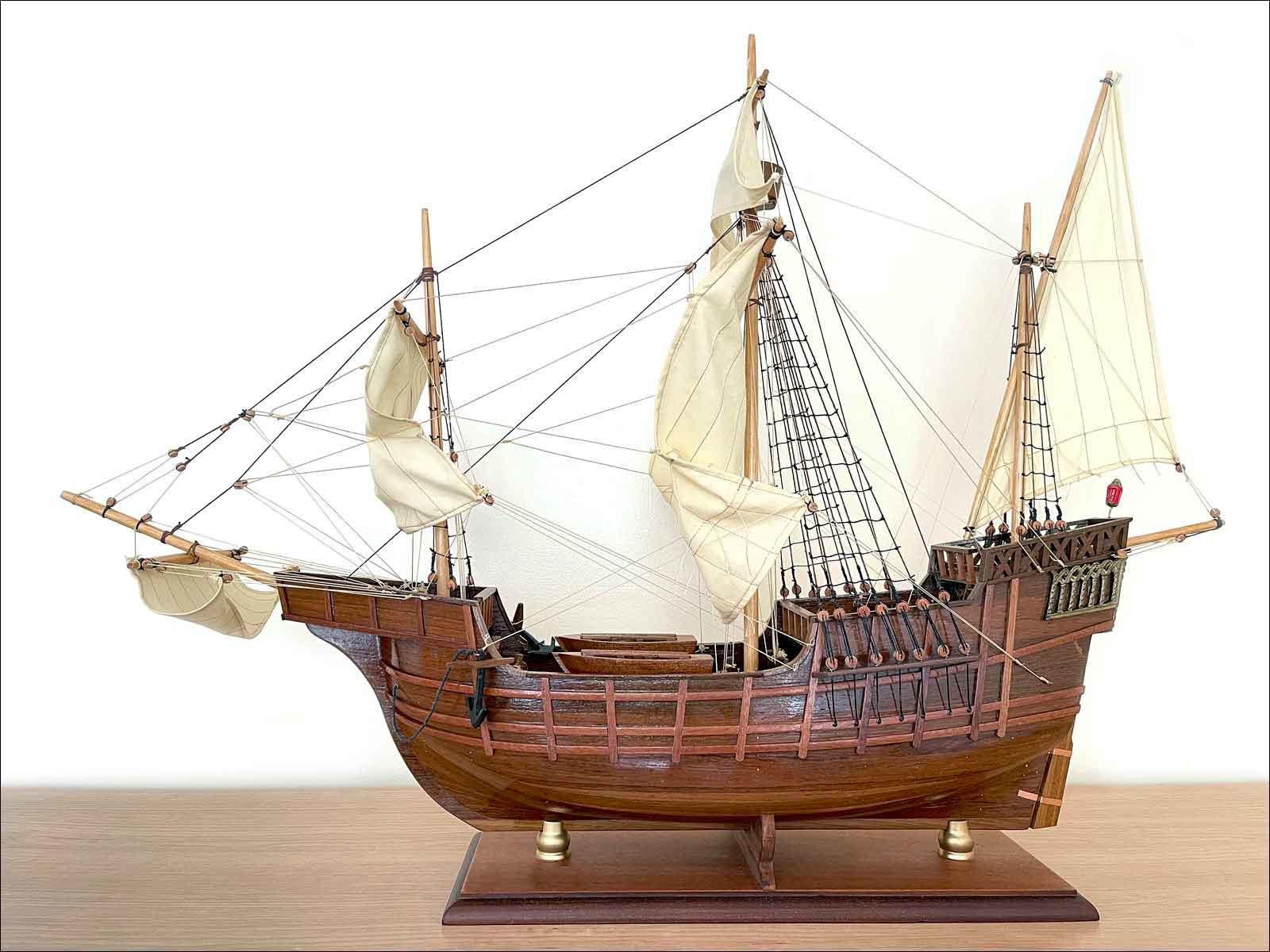 Share the love with your friend
Complete the form below and we'll email your friend about this product
You'll earn 0 reward points with this purchase.
Be one of the first to know!
We're sorry we're out of stock but we can let you know as soon as it's available if you enter your email address below.
Overall dimensions:
Length: 31" (79 cm)
Width: 11" (28 cm)
Height: 23" (59 cm)
The model galleon Santa Maria was Columbus' flagship in 1492 when it set sail to conquer the Americas.
Flags and name plate will be added to the Spanish galleon model before delivery.
The Santa Maria model galleon has copper pinned hull.

This Spanish galleon model is handmade from scratch using planks on frame technique.

Supported by a solid wooden stand.

The Santa Maria model galleon is sold fully built.

Not a kit.

Model galleon is dispatched from Bristol or Click & Collect.
Models are shipped via DHL and shipping costs are as follows:

UK mainland and Northern Ireland @ £10.50
The Scottish Highlands & Channel Islands @ £35.10
The USA @ £244.00

Please email us to request a delivery charge to your country.
INTERNATIONAL DELIVERY INCLUDING EUROPE:
Shipping cost doesn't include customs clearance, import taxes, duty or VAT. The buyer will be liable for payment of all import charges applicable in their respective country. Each country has a different tax rate. We advise buyers to check their government website for further information.

DELIVERY TO NORTHERN IRELAND:
There are no extra charges to be paid for deliveries to Northern Ireland.
The Santa Maria was a galleon ship that became famous for being the flagship of Christopher Columbus on his first voyage to the Americas in 1492. The exact year of the Santa Maria's construction is not known, but it is believed to have been built sometime between 1480 and 1492, specifically for Columbus's first voyage to the Americas. The ship was constructed in Galicia, Spain, and was originally known as La Gallega, which means "The Galician" in Spanish, a reference to its place of origin. The ship was named after the Virgin Mary.
The Santa Maria galleon was owned by the Spanish crown, specifically by King Ferdinand II and Queen Isabella I of Castile and it was part of a fleet of three ships that Columbus used on his first voyage to the Americas, which also included the Niña and the Pinta. She served as Columbus's flagship and was the largest of the three ships.
The Santa Maria was a type of ship called a carrack, also known as a "nao" in Spanish. Carracks were popular in the 15th and 16th centuries and were widely used by European explorers during the Age of Discovery. They were sturdy, heavily built ships that had a high freeboard, a large rounded hull, and a distinctive high poop deck at the stern. Carracks were capable of long-distance voyages and were often used for trade and exploration. The Santa Maria was a large and heavily built ship, measuring around 116 feet (35 meters) in length and 39 feet (12 meters) in width, with a capacity of around 100 tons.
The Santa Maria was one of the largest and most heavily armed carracks of its time, and it played a significant role in Columbus's historic voyage to the Americas.
---