HMS Agamemnon Ship Model (1781 GB) | Large Scale
ADMIRALTY SHIP MODELS
HMS Agamemnon Ship Model (1781 GB) | Large Scale
Overall size: 1.15 m (L) x 90 cm (H)
SKU: 57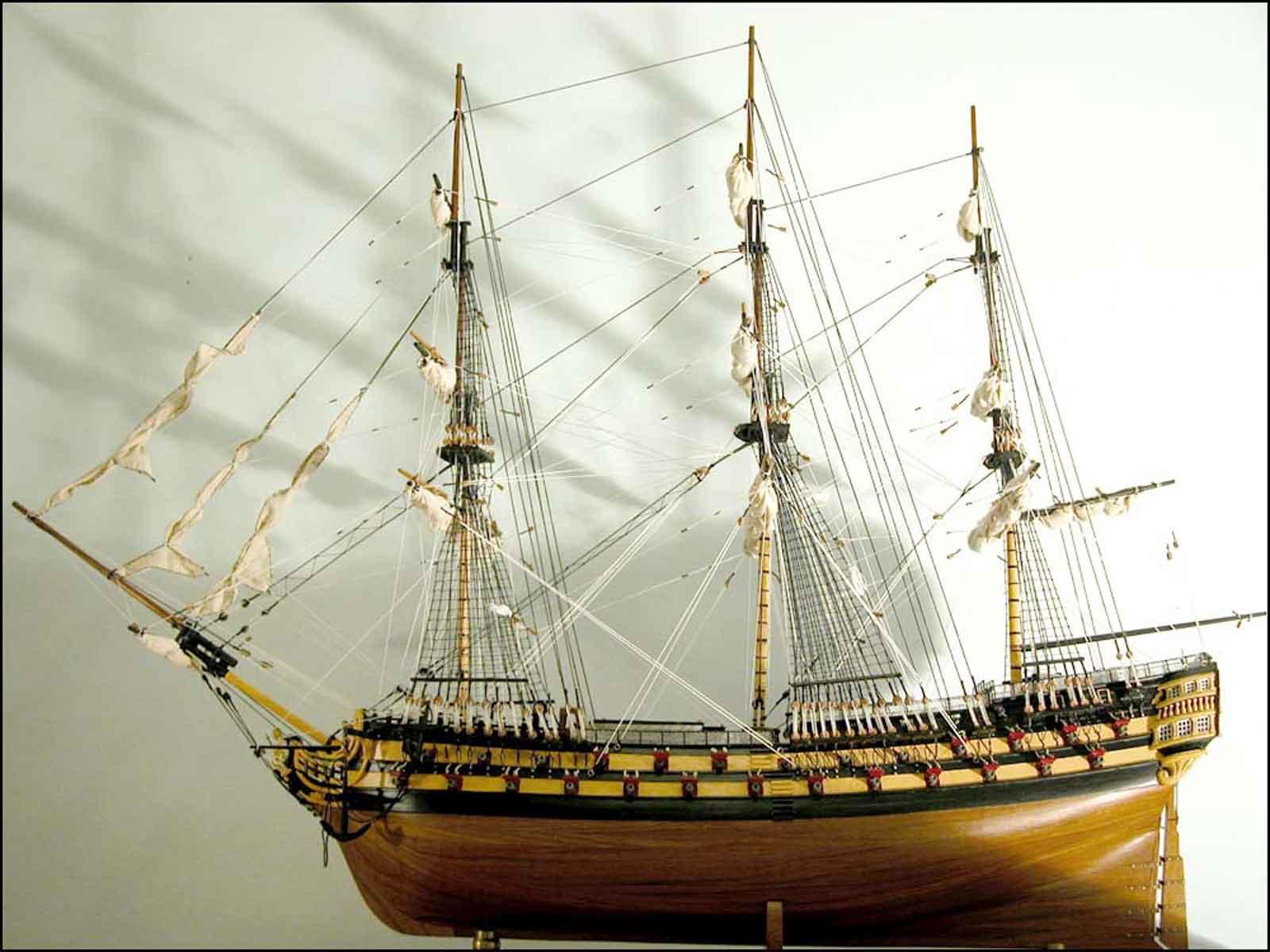 Share the love with your friend
Complete the form below and we'll email your friend about this product
You'll earn 0 reward points with this purchase.
Be one of the first to know!
We're sorry we're out of stock but we can let you know as soon as it's available if you enter your email address below.
Dimensions:
Length: 44" (1.15 m)
Width: 14" (40 cm)
Height: 34" (90 cm)
One of our best model ships and a firm favourite with model ship enthusiasts, the large scale HMS Agamemnon model ship displays exceptional build quality and attention to detail. 
This large ship model has hand carved head piece.

A museum quality ship model, the Agamemnon model has several thickness rigging laid out by hand.

The ship's hull has been built using finely cut wooden planks.

This ready made model ship of HMS Agamemnon is supported by a solid wooden stand.
A large model ship for sale delivered by ourselves in the UK.
Not a kit.
Please contact us to request delivery charge to the UK or abroad.
HMS Agamemnon was a 64-gun third-rate ship of the line of the Royal Navy. She saw service in the American Revolutionary, French Revolutionary and Napoleonic Wars, and fought in many of the major naval battles of those conflicts. She is remembered as being Nelson's favourite ship and was named after the mythical ancient Greek king Agamemnon, being the first ship of the Royal Navy to bear the name.

The future Lord Nelson served as Agamemnon's captain from January 1793 for 3 years and 3 months, during which time she saw considerable service in the Mediterranean. After Nelson's departure, she was involved in the infamous 1797 mutinies at Spithead and the Nore, and in 1801 was present at the first Battle of Copenhagen, but ran aground before being able to enter the action. Despite Nelson's fondness for the ship, she was frequently in need of repair and refitting, and would likely have been hulked or scrapped in 1802 had war with France not recommenced.

She fought at the Battle of Trafalgar on 21 October 1805, as part of Nelson's weather column, where she forced the surrender of the Spanish four-decker Santísima Trinidad. Agamemnon's later career was served in South American waters off Brazil. Her oft worn-out and poor condition contributed to her being wrecked when in June 1809 she grounded on an uncharted shoal in the mouth of the River Plate.

Seaforth Publishing produces the very best maritime books, including modelling books. Check their website regularly for the latest releases.
Having recently taken delivery of my HMS Agamemnon I have to say that I'm absolutely delighted with the quality and craftsmanship. Indeed, the website photos do not start to do justice to the incredible level of detail and to the skill & care that's gone in to producing such an outstanding model. I would also commend Admiralty for the excellence of the packing of such a delicate item, and of their all round first rate customer service. The passion that they have for what they do is quite evident in all aspects of their products and service.
Leave a review
---