La Confiance Ship Model (1799 France) | Medium Scale
ADMIRALTY SHIP MODELS
La Confiance Ship Model (1799 France) | Medium Scale
Overall size: 70 cm (L) x 60 cm (H)
ONLY ONE IN STOCK!
SKU: 22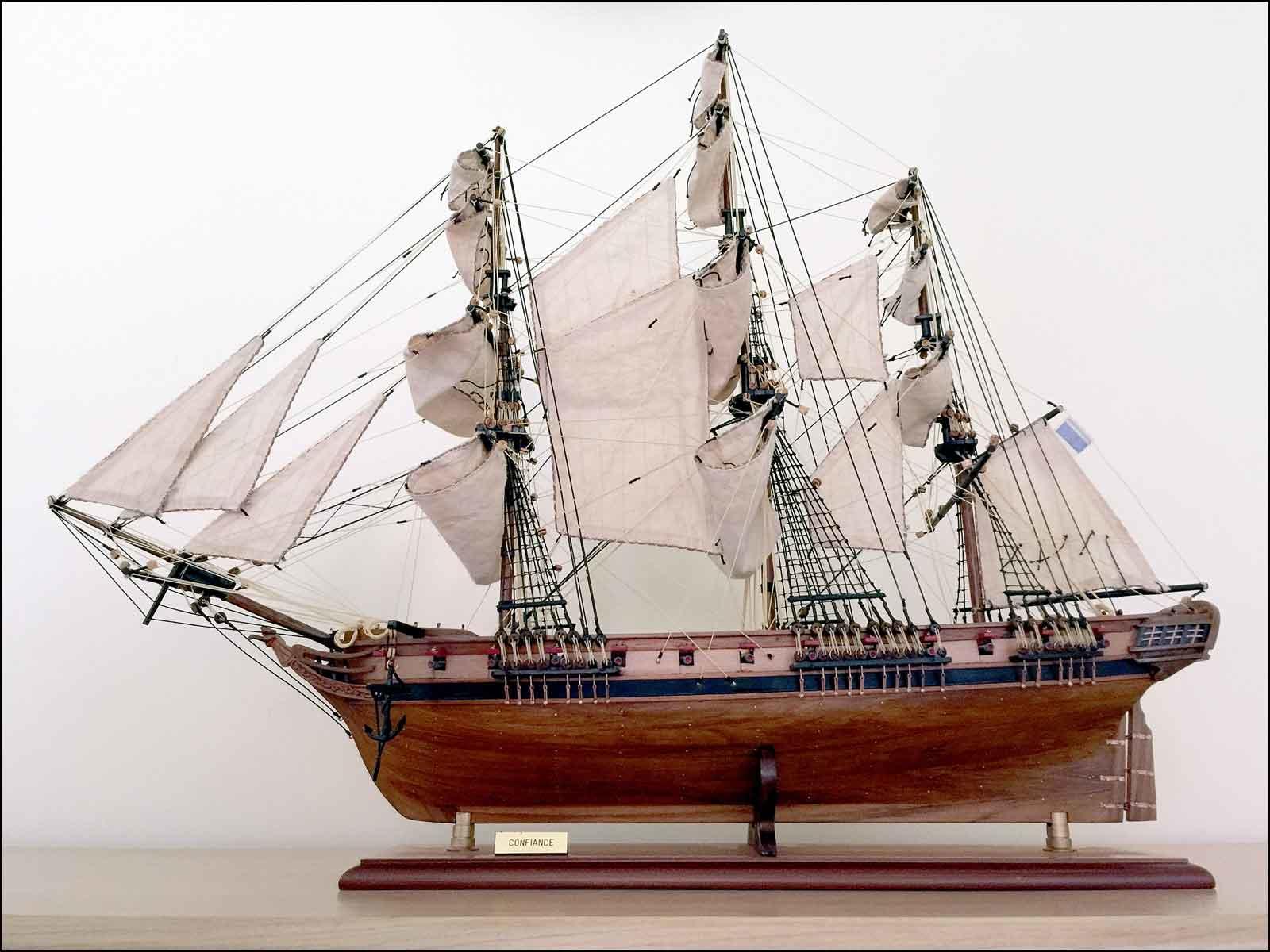 Share the love with your friend
Complete the form below and we'll email your friend about this product
You'll earn 0 reward points with this purchase.
Be one of the first to know!
We're sorry we're out of stock but we can let you know as soon as it's available if you enter your email address below.
Overall dimensions:
Length: 27" (70 cm)
Width: 10" (25 cm)
Height: 23.6" (60 cm)

La Confiance is a French ship of the 18th century.
The model sailing ship is sold fully built and ready for display.

A wooden model boat of the French ship La Confiance.

La Confiance model sailing boat has copper pinned hull.

This ready made model ship is supported by a solid wooden stand.

Not a kit.

Dispatched from Bristol or free Click & Collect.
Models are shipped via DHL and shipping costs are as follows:

UK mainland and Northern Ireland @ £10.50
The Scottish Highlands & Channel Islands @ £35.10
The USA @ £210.00

Please email us to request a delivery charge to your country.
INTERNATIONAL DELIVERY INCLUDING EUROPE:
Shipping cost doesn't include customs clearance, import taxes, duty or VAT. The buyer will be liable for payment of all import charges applicable in their respective country. Each country has a different tax rate. We advise buyers to check their government website for further information.

DELIVERY TO NORTHERN IRELAND:
There are no extra charges to be paid for deliveries to Northern Ireland.
"La Confiance" is best known in the context of piracy for being the ship of the famous French privateer and pirate Robert Surcouf, who operated in the Indian Ocean in the late 18th and early 19th centuries.
Background: In the late 18th century, France and Britain were bitter enemies, with their rivalries spanning the globe. The Indian Ocean was one of the theatres of their naval conflicts, and privateers like Surcouf were instrumental in attacking British commercial interests.
La Confiance (1799): This was not the first ship Surcouf captained with the name "La Confiance". The 1799 version was a relatively small but swift schooner. It was known for its speed and agility, making it perfect for surprise attacks against larger, slower vessels.
Capture of the Kent: Perhaps the most famous engagement involving La Confiance under Surcouf's command was the capture of the British ship "Kent" in 1800. Despite being significantly outgunned and outnumbered, Surcouf and his crew managed to board and capture the Kent. This feat added to Surcouf's legend, illustrating his audacity and tactical genius.
Later Years: Surcouf would later upgrade to larger ships, and La Confiance would eventually fall out of his use. Surcouf's tactics and successes made him a hero in France and a feared figure among British merchants.
Legacy: The legacy of La Confiance and Surcouf is enshrined in French maritime history. Their adventures symbolize the audacity and daring of French privateers during a period of intense global conflict.
There were other ships with the name "La Confiance" over the years, but the one associated with Surcouf in 1799 is the most famous due to its association with him and its actions against British shipping in the Indian Ocean.
---