Viking Ship Model | Clinker Hull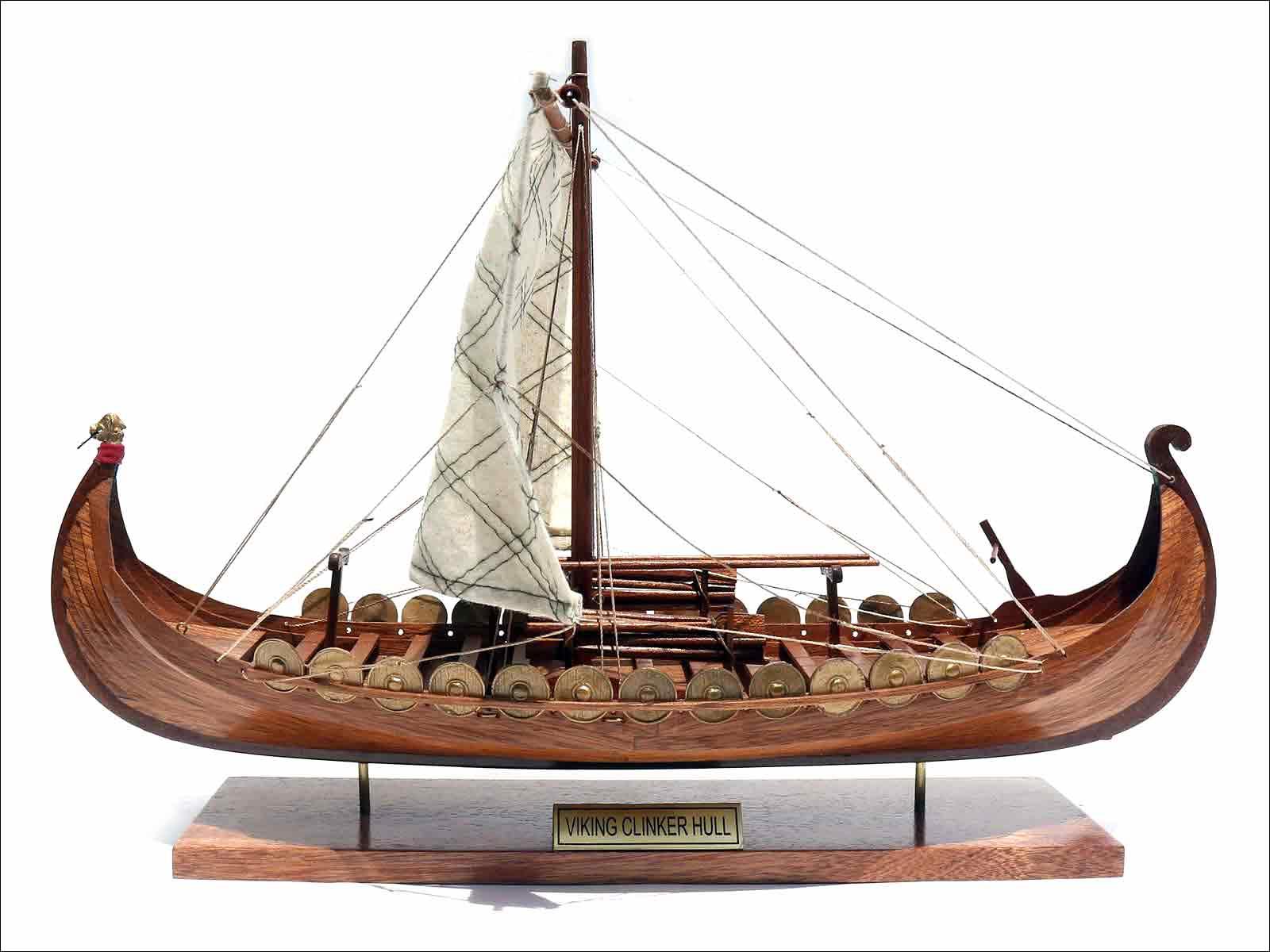 Share the love with your friend
Complete the form below and we'll email your friend about this product
You'll earn 0 reward points with this purchase.
Be one of the first to know!
We're sorry we're out of stock but we can let you know as soon as it's available if you enter your email address below.
Dimensions:
Length: 17.72" (45 cm)
Width: 5.12" (13 cm)
Height: 13.78" (35 cm)
This Viking ship model is handmade from hardwood and the hull is clinker built. The model is very light in weight.

A clinker built hull is "a method of boat building where the edges of hull planks overlap each other" and that's why this Viking ship model is a rare and valuable item.
The Viking ship model is sold fully assembled.

Comes with mast lying down and buyer will have to raise the mast.

The clinker hull is made with overlapping strakes construction.

A Viking boat model with dragon head.

Supported by a solid wooden stand.

Handmade from hardwood.

Not a kit.

Dispatched from Bristol or free Click & Collect.
Models are shipped via DHL and shipping costs are as follows:

UK mainland and Northern Ireland @ £10.50
The Scottish Highlands & Channel Islands @ £35.10
The USA @ £90.00

Please email us to request a delivery charge to your country.
INTERNATIONAL DELIVERY INCLUDING EUROPE:
Shipping cost doesn't include customs clearance, import taxes, duty or VAT. The buyer will be liable for payment of all import charges applicable in their respective country. Each country has a different tax rate. We advise buyers to check their government website for further information.

DELIVERY TO NORTHERN IRELAND:
There are no extra charges to be paid for deliveries to Northern Ireland.
Viking clinker hull ships, also known as Viking clinker-built ships, were a type of boat used by the Vikings during the Viking Age (793-1066 AD).
These ships were constructed by overlapping thin planks of wood on top of each other and fastening them together with iron nails or rivets. This method of construction, known as "clinker" or "lapstrake," made the hulls of the ships strong and flexible, able to withstand rough seas and navigate shallow waters.
The Viking clinker-built ships came in different sizes and shapes, ranging from small rowboats to large warships known as longships. The longships were particularly important in Viking warfare and raiding, as they were fast, agile, and able to navigate both open seas and rivers.
The design of the Viking clinker-built ships allowed them to be easily repaired and maintained, making them ideal for long sea journeys and exploration. They were also used for trade and transportation of goods and people, playing a crucial role in the development of Viking culture and civilization.
Learn more about the clinker hull construction method and how the Viking ships were built on the website Viking Ship Museum in Roskilde.
Very nice and quality model. Very happy with it. And also wanted to complement the person or persons who packaged and shipped it from the UK to the US. The model is somewhat delicate but showed up in perfect condition. Great job! And delivered within the time frame promised.
Leave a review
---