HMS Victory Cross Section (1805 GB)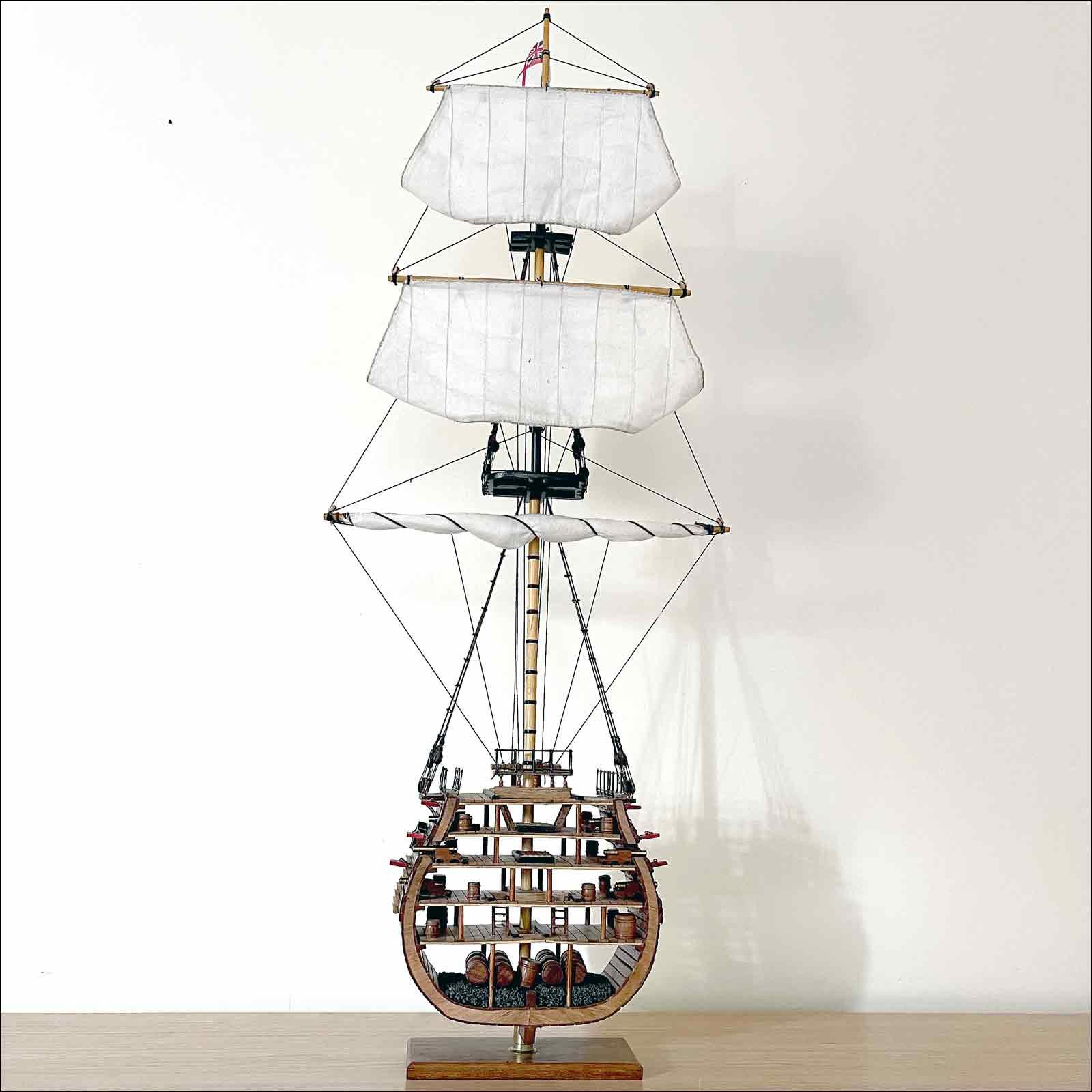 Share the love with your friend
Complete the form below and we'll email your friend about this product
You'll earn 0 reward points with this purchase.
Be one of the first to know!
We're sorry we're out of stock but we can let you know as soon as it's available if you enter your email address below.
Dimensions:
Length: 11.41" (29 cm)
Height: 29.92" (76 cm)
Width: 2.55" (6.5 cm)
The wooden HMS Victory cross-section is handcrafted from scratch.
Fully built Victory cross-section.

Wooden ship model cross-section.

Collection in Bristol (UK) only.
Shipping cost to be confirmed.
HMS Victory is a first-rate ship of the line of the Royal Navy, launched in 1765. The hull design of HMS Victory is an example of the classical British ship design of the 18th century.
The Victory ship has a wooden hull that is 227 feet (69.2 meters) long and 52 feet (15.8 meters) wide at the widest point. The hull is divided into three decks, with a total height of 20 feet (6.1 meters). The ship has a displacement of 3,500 tons.
The hull of HMS Victory is designed with a curved shape that allows it to cut through the water with minimal resistance, making it more manoeuvrable and faster than other ships of its time. The bow of the ship is sharp and narrow, while the stern is wider and more rounded.
One of the most notable features of the HMS Victory's hull design is its copper plating. The ship was one of the first to be fitted with copper sheathing, which was designed to protect the wooden hull from damage by marine organisms such as shipworms and barnacles. This innovation greatly improved the ship's speed and seaworthiness by reducing drag caused by the accumulation of marine growth on the hull.
Overall, the hull design of HMS Victory reflects the advanced naval engineering principles of its time and was a significant factor in its success as a formidable warship. Today, the ship is preserved as a museum in Portsmouth, England, and remains a testament to the ingenuity and craftsmanship of the shipbuilders of the 18th century.
---