RMS Titanic Ship Model (1912 GB) | Medium Scale
ADMIRALTY SHIP MODELS
RMS Titanic Ship Model (1912 GB) | Medium Scale
Overall size: 80 cm (L) x 30 cm (H)
SKU: 34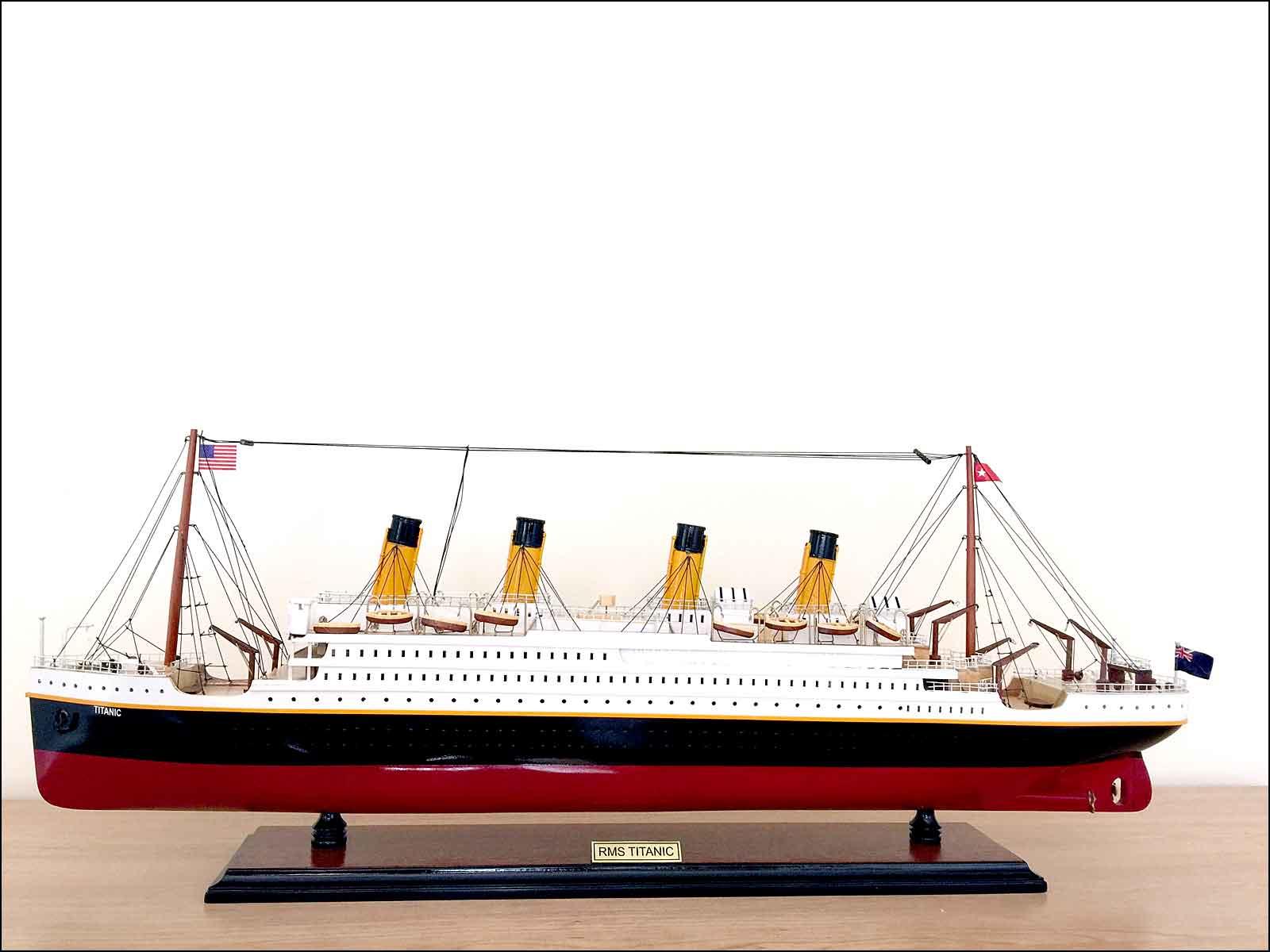 Share the love with your friend
Complete the form below and we'll email your friend about this product
You'll earn 0 reward points with this purchase.
Be one of the first to know!
We're sorry we're out of stock but we can let you know as soon as it's available if you enter your email address below.
Overall dimensions:
Length: 31.49" (80 cm)
Width: 3.74" (9.5 cm)
Height: 11.81" (30 cm)
The Titanic model ship is built from scratch using plank on frame technique. Time is precious: Get this Titanic model already built.
A fully assembled Titanic model for display.

This model of the Titanic ship is painted using the colours of the original ship.

A wooden ship model.

Supported by a solid wooden stand.

Not a kit.

Dispatched from Bristol or free Click & Collect.
Please contact us to order a smaller or larger Titanic model. The following sizes can be made: 60 cm, 100 cm, 140 cm and 200 cm in length.
Models are shipped via DHL and shipping costs are as follows:

UK mainland and Northern Ireland @ £10.50
The Scottish Highlands & Channel Islands @ £35.10
The USA @ tbc

Please email us to request a delivery charge to your country.
INTERNATIONAL DELIVERY INCLUDING EUROPE:
Shipping cost doesn't include customs clearance, import taxes, duty or VAT. The buyer will be liable for payment of all import charges applicable in their respective country. Each country has a different tax rate. We advise buyers to check their government website for further information.

DELIVERY TO NORTHERN IRELAND:
There are no extra charges to be paid for deliveries to Northern Ireland.
The Titanic is one of the most famous ships in history, not because of its size or luxury, but because of its tragic maiden voyage.
The Titanic was built by the Belfast shipyard Harland and Wolff for the White Star Line. Its construction started in 1909, and it was launched in 1911. The Titanic was the largest ship afloat at the time, designed with luxury in mind, and was billed as "unsinkable" due to its state-of-the-art watertight compartments.
The Titanic began its maiden voyage from Southampton, England, on April 10, 1912, destined for New York City. The ship made stops in Cherbourg, France, and Queenstown (now Cobh), Ireland, before heading out into the Atlantic.
The Titanic had capacity for over 2,400 passengers and more than 800 crew members. On the night of April 14, 1912, despite receiving several ice warnings, the Titanic struck an iceberg at around 11:40 PM. After the collision, the ship began to take on water rapidly.
Out of the estimated 2,224 passengers and crew onboard, more than 1,500 died, making it one of the deadliest commercial maritime disasters in history. The high death toll was due to the inadequate number of lifeboats, the freezing Atlantic waters, and other factors.
The wreck of the Titanic remained undiscovered until 1985 when it was located by a joint American-French expedition led by Dr Robert Ballard. It lies in two main pieces about 370 miles south-southeast of Newfoundland, Canada, at a depth of about 12,500 feet.
The Titanic tragedy has had a lasting cultural impact, inspiring numerous books, films, and songs. One of the most famous portrayals is James Cameron's 1997 film "Titanic," which went on to become one of the highest-grossing films of all time.

Find out how the RMS Titanic ship has been built, its fatal flaws, passenger and much more on the History website.

Excellent quality such attention to detail, really well worth the cost. Also excellent personal service. Lovely ship well built and worth every penny of the cost.
The model represents excellent value for money and, it goes without saying, that my granddaughter was absolutely delighted with her present. Everything about my order was tickety-boo. It only took DHL a little over two days to deliver the parcel to my granddaughter in America. Fast or what? Finally, customer service at Admiralty Ship Models was first rate.
Leave a review
---