HMS Victory Ship Model | Large Scale | Sails Closed | Salmon
ADMIRALTY SHIP MODELS
HMS Victory Ship Model | Large Scale | Sails Closed | Salmon
Overall size: 100 cm (L) x 77 cm (H)
SKU: 120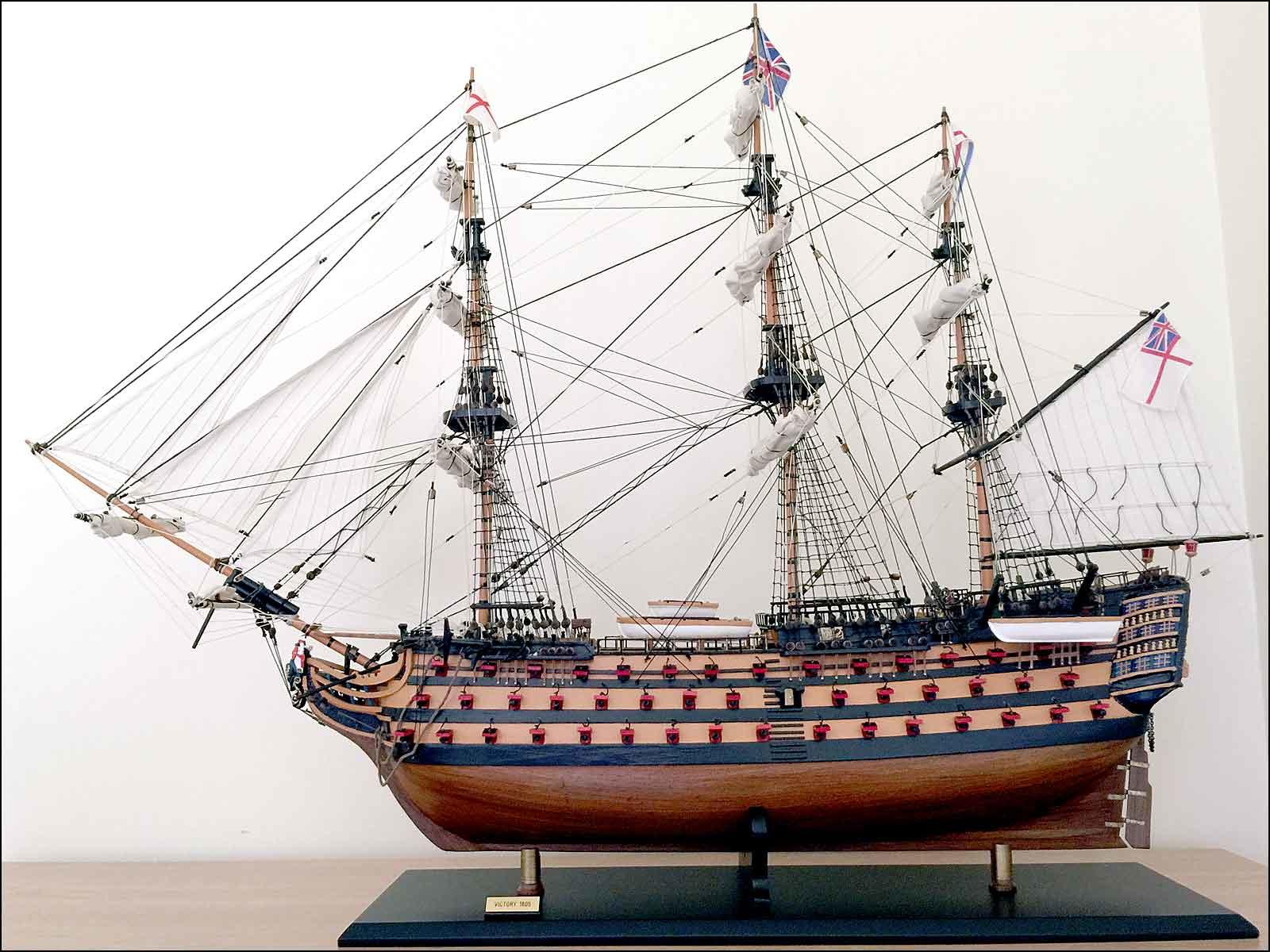 Share the love with your friend
Complete the form below and we'll email your friend about this product
You'll earn 0 reward points with this purchase.
Be one of the first to know!
We're sorry we're out of stock but we can let you know as soon as it's available if you enter your email address below.
Overall dimensions:
Length: 39.37" (100 cm)
Width: 11.99" (33 cm)
Height: 30.31" (77 cm)
This majestic HMS Victory model ship is more than just a beautiful decoration – it's a true work of art that captures the history and grandeur of the legendary vessel.

This Victory model is single planked.

Model ship has the sails closed.

Supported by a solid wooden stand.

Handmade HMS Victory model.

C

arefully handcrafted for our discerning customers.

Model ship is sold fully assembled and ready for display.

Not a kit.
Shipping cost to be confirmed.
HMS Victory was a first-rate ship of the line of the British Royal Navy. Launched in 1765, it is best known as the flagship of Admiral Lord Nelson during the Battle of Trafalgar in 1805. HMS Victory is perhaps the most famous Man o' War ship.
A Man o' War, also spelled as Man-of-War, was a type of powerful warship used primarily by European navies from the 16th to the 19th centuries. The term "Man o' War" originally referred to a specific type of large, heavily armed sailing ship with multiple gun decks. These vessels were designed for warfare and were used by various naval powers, including England, France, Spain, and the Netherlands.
Man o' War ships were known for their imposing size, impressive firepower, and robust construction. They were typically three-masted ships with a high number of cannons mounted on multiple decks, which provided a broadside firing capability. These warships were heavily armed and carried various types of cannons, ranging from small to large, capable of firing solid shot, grape shot, or even explosive shells.
The primary purpose of Man o' War ships was to engage in naval warfare, protecting trade routes, and engaging in battles against enemy vessels. They played a significant role in naval conflicts and expeditions during the Age of Sail, including major conflicts like the Spanish Armada, the Napoleonic Wars, and the American Revolutionary War.
As technology progressed and the age of steam-powered ironclads emerged in the mid-19th century, the term "Man o' War" fell out of use for new warships. However, it still holds historical significance, representing a formidable symbol of naval power and warfare during the era of sail.
Visit the majestic HMS Victory ship docked in Portsmouth, England.
---